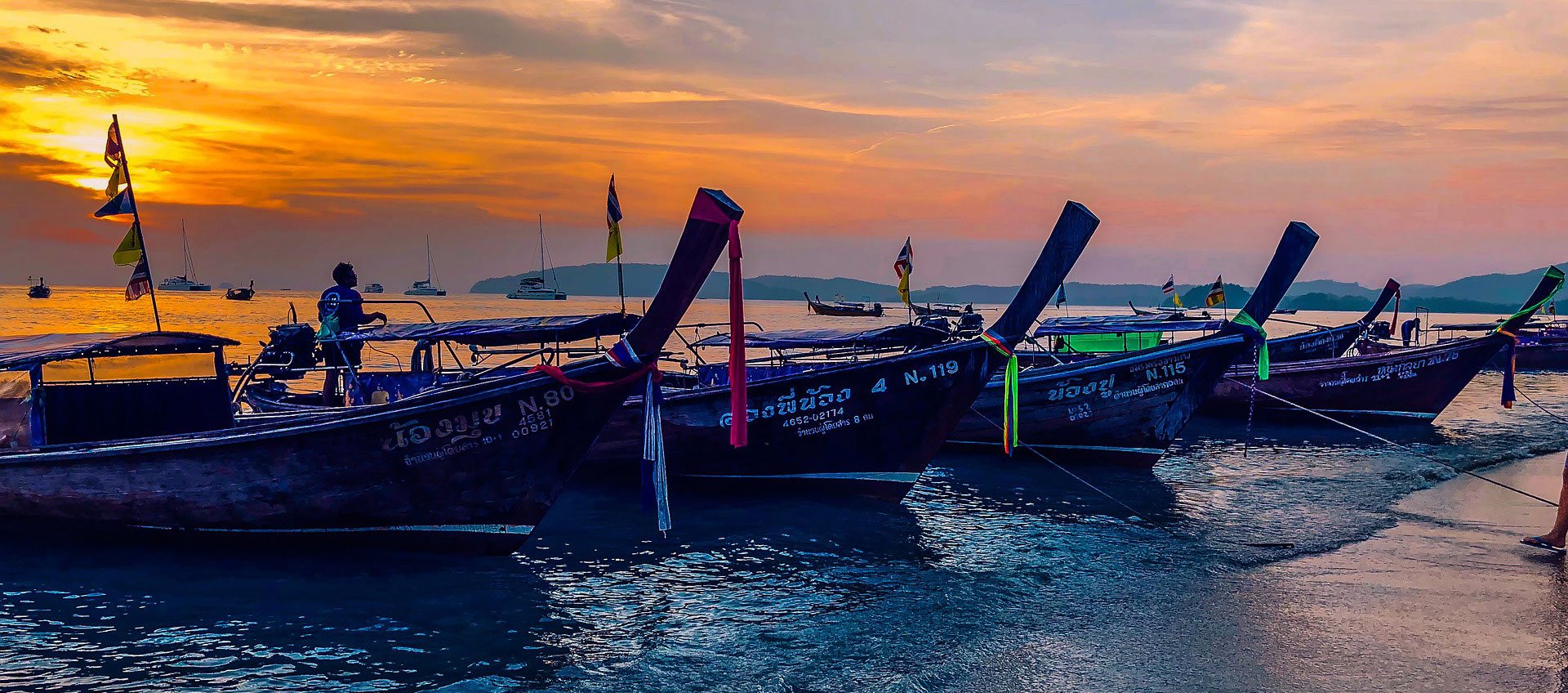 Ao Nang, Krabi, is a stunning beach destination in Thailand offering limestone cliffs, tropical jungle and a wealth of adventure activities. By night you can enjoy a lively buzz with plentiful bars and restaurants to check out. By day, lounge on powdery white sand and take a dip in the crystal clear waters. Alongside lazing about topping up your tan, there are plenty of exciting activities to take part in for the adventure minded. Here's five experiences not to be missed next time you visit Ao Nang.
Beach Hopping Similian Islands Day Tour
Hop on a Similian Islands day tour to have your mind blown away by pristine beauty. You'll get to enjoy multiple locations throughout the day. Some of the best activities include snorkeling at Stonehenge, a delicious Thai lunch on the island of Koh Miang, lounging on the beautiful beach at Honeymoon Bay, explore Koh Payu and if you're lucky – dolphin spotting in the Andaman sea.
Bathe and Relax in Natural Hot Springs
Not far from Ao Nang is the Namtok Ron Hot Spring Waterfall where you can relax and rejuvenate your body. Combine this with the Krabi Hot Springs which is another stunning site containing natural mineral water, which can get up to a temperature of forty degrees celcius! The best way to reach these places is by scooter which you can hire for around 300 baht a day.
Enjoy Incredible Views at the Tiger Cave Temple (Wat Tham Suea)
Mysterious legend tells a story of a tiger living in Wat Tham Suea which is now a monastery main hall. When visiting, you can explore the caves yourself which contain fascinating relics and Buddha images. To enjoy the gold painted chedi and large seated Buddha image, you'll need to walk up 1237 steps. But the incredible views across the Andaman sea at the top are well worth it.
Watch a Muay Thai Fight on Friday Night
If you're a martial arts enthusiast, or you just appreciate an exciting sporting match, watching a Muay Thai fight is a must. You'll probably notice fights being advertised throughout the week. Cars drive around Ao Nang advertising the fight through a megaphone. Ao Nang boxing stadium is situated near Nopparat Thara beach which is easy to reach from the town. If you really enjoy the fight, you can even book in for some Muay Thai training sessions yourself.
Learn How to Cook Thai Food Like a Professional
Thai food is probably the most delicious and flavourful of all Asian cuisines. Krabi in particular is known for blending dishes with salty, spicy, bitter, sour and sweet which is a pure taste explosion. There are plenty of Thai cookery schools around Ao Nang where you can book classes. Ask at your guesthouse who they recommend is the best. Your friends and family will love you for bringing home Thai cooking skills!